Project Objective
Build official websites delivering the brand image of INOVIT and YSM, and tried to build it's own online shop website.
My Role & Team
I worked as an UI designer with an art director and engineers in IT department. I designed flow chart, wireframes, flash /html prototype, visual mockups, UI specifications, brand image, 3D model rendering and market materials for the official website, ERP system and online shop website.
Deliverables
• Wireframe
• Mockup
• Prototype
• Specification
• Product Catalog
• 3D Model Rendering
• 3D View product in Flash
Tools
Dreamweaver, Office Suit, Photoshop, Illustrator, Flash
INOVIT Wheels (www.inovit.com) is a non-original wheel company selling replacement wheels around the world with office in China, US, England, Italy, Australia, India, Holland and Japan. INOVIT represents the latests trends with 4 Brand: INOVIT, INOVIT PRESTIGE, MANIA and ASUKA. And INOVIT owns a brunch manufacturer YSM Wheels (www.ysmwheels.com) in China.
Design for INOVIT Official Website
I designed this website in flash considering animation could empower the wheels in a cooler presentation.
1. Visual Mockup
Main Hub
Product List
Product Detail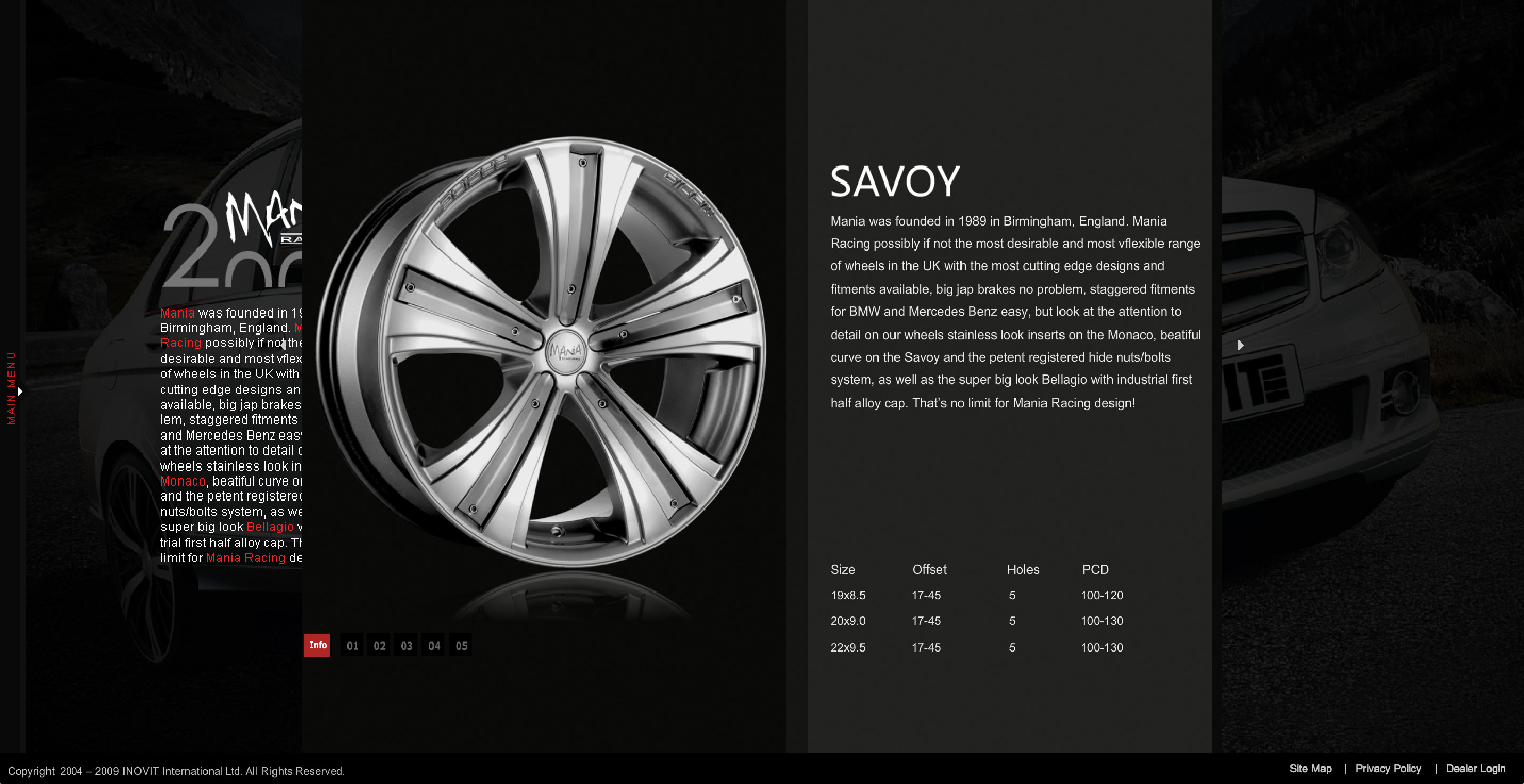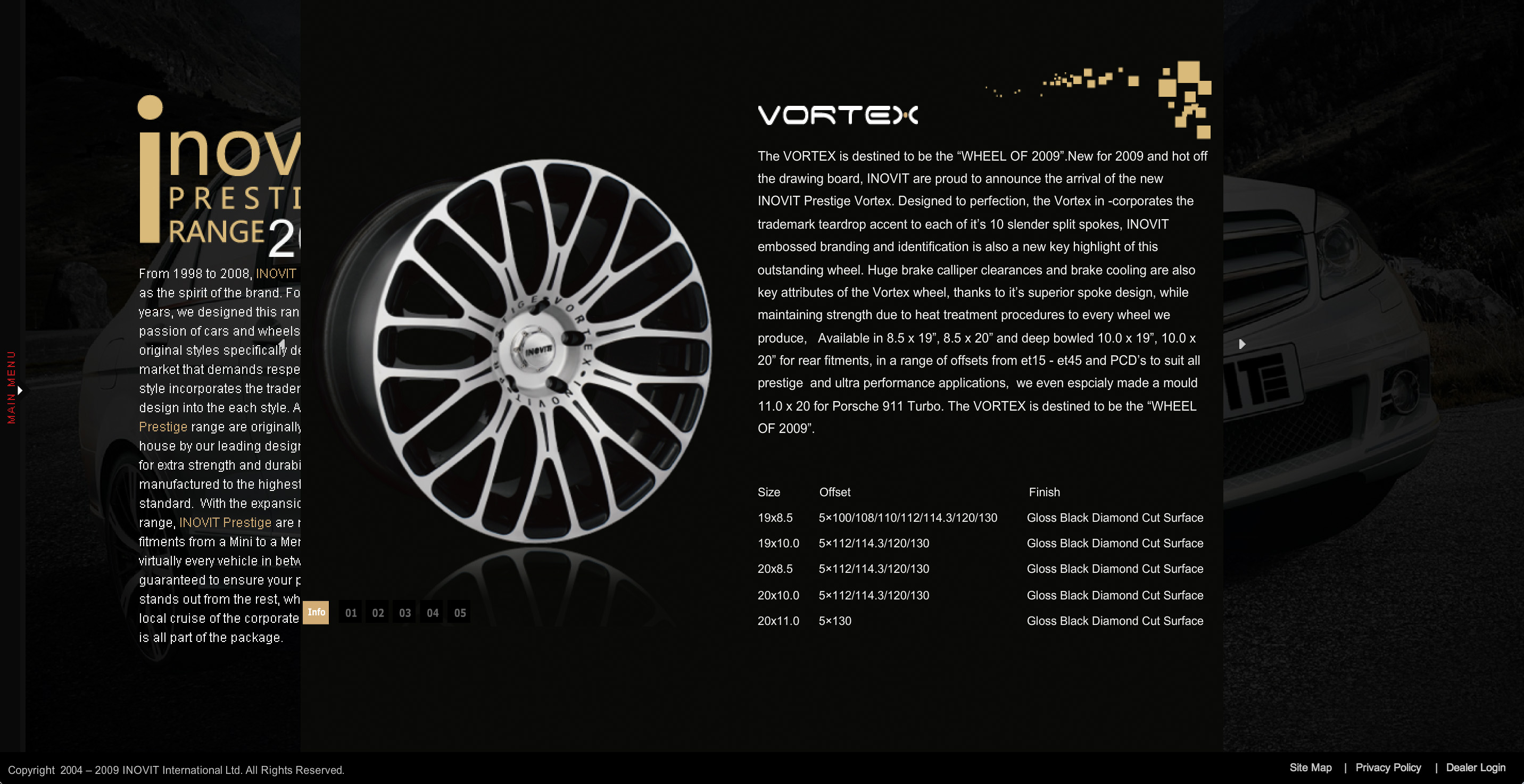 Contact Us
2. Prototype
I made this prototype in Flash.
Online prototype: Click to Check
3. Animation
I render wheel model and made them into 3D view in Flash.
Online Flash Demo: Click to Check

Design for YSM Wheels
YSM's official website is designed to present all the products and publish news of company. For INOVIT and YSM customers, they could sign in and sign up to YSM ERP system to place and manage their order, to pay and manage account etc. Sales and AP clerk of INOVIT could sign in to administrate the order and account payment to close the deal.
1. Information Architecture
Homepage
Register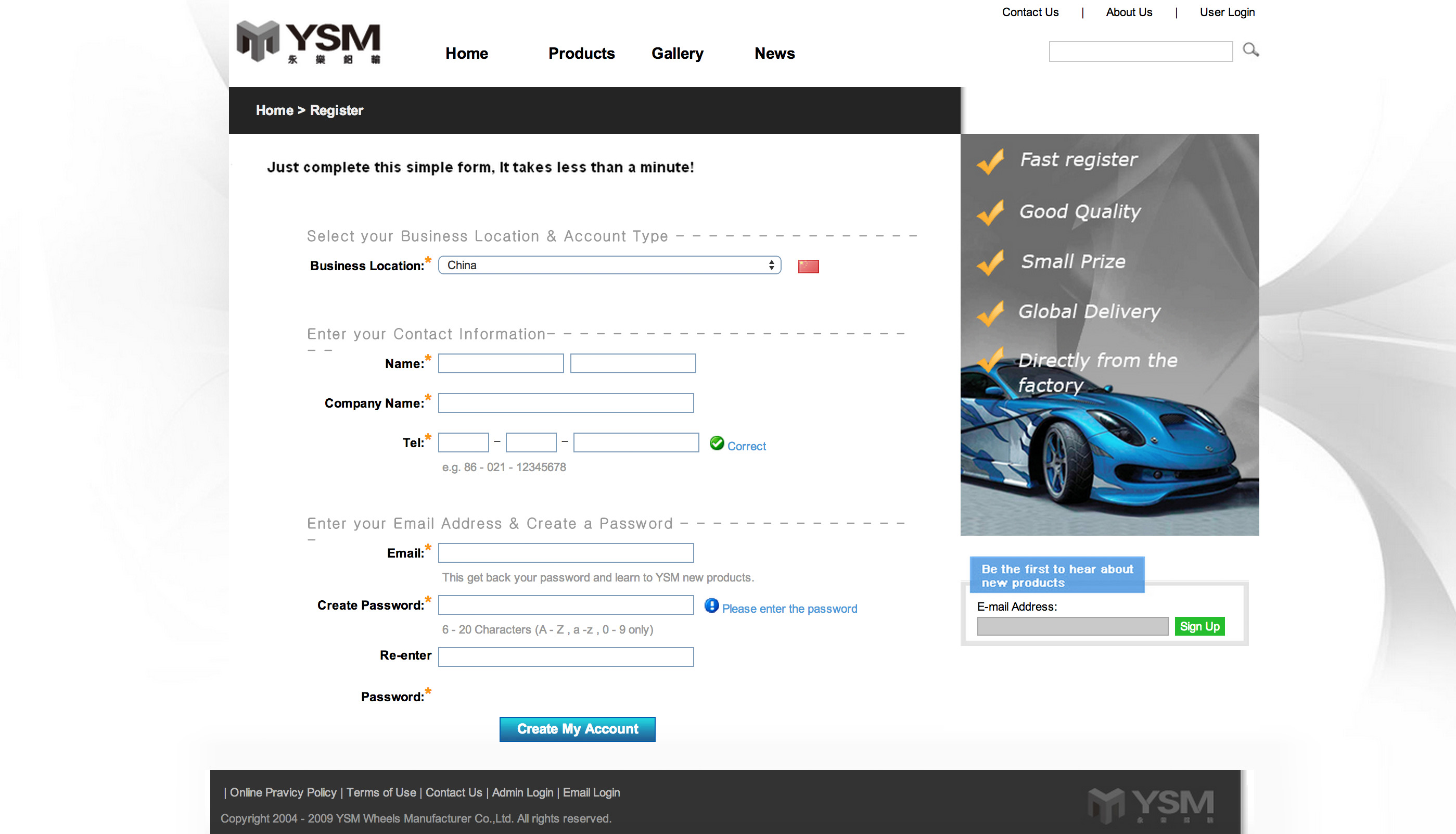 News
Gallery
Product Detail
4. Prototype
I made this prototype in HTML.
Online Prototype: Click to Check
Design for YSM Online Shop
This is an experiment online shop. Clients could check the wheels and add product to cart.
Visual Mockup
Homepage
Product List
Product Detail
Shopping Cart
1. Got to know the B2B flows, how orders and account payment works in ERP system.
2. Got to know the Wheels industry.
3. Got to practice flash.
Learnt how to build and render a 3D model.